Welcome
Welcome!!! At Carpetland, we pride ourselves on offering the most comprehensive line of window treatment products. We carry a large variety of blinds, shades, shutters and drapes.
One of the easiest things you can do to update your look is changing out your window treatments. It can completely change the look of your furniture. It can even make the room look more spacious. Whether you are looking for something to help with the energy bill, to ensure privacy or something special for that delicate layered look, we can help.
Keep in mind, that if you desire a new look from top to bottom, we also offer flooring options to choose from like carpets, tiles, laminate flooring, and stone.
Whatever your need, Carpetland has a solution.

Carpetland is on Facebook
For the latest on window treatment-related news and information, visit us on Facebook.
Featured Product
SaVanna S-95 Headrail Vertical Blinds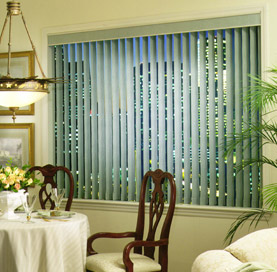 Practical and fashionable, our collection of SaVanna custom vertical blinds are the most versatile of all window treatments. Paired with one of three valance options you have an ideal window covering for any room in your home. Vertical Blinds are perfect for large or small windows, French doors and patio doors. SaVanna verticals are available on our S-95 headrail in your choice of fabric or vinyl PVC.
Verticals combine beauty, easy maintenance, excellent light control and privacy with a rich variety of fashion forward textures, colors and patterns. SaVanna Verticals utilizing the superior S-95 track sets the standard for excellence. This system is the most versatile system that you will find anywhere! The S-95 features self-lubricating wheeled carriers and stacks open in a third less space than any other headrail system. Rotate and traverse motorization is available.