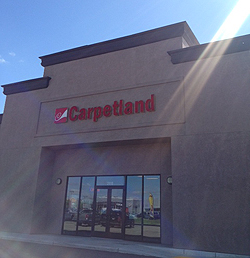 Carpetland was founded in 1986. Our team of window treatment installers are knowledgable and reliable. They have worked with us since we have opened which means the people we are sending to your home are long-time installers that we know and trust.
From the moment your conversation begins with our team, you will be relaxed and confident. Relaxed because our team will make sure you comfortable whether it be in your home or our showroom. Your confidence will come from the fact that you are being assisted by the team that will help you make the best possible decisions for your home.
The lines of communication will remain open from the initial sale through your installation. We find that a constant flow of communication keeps our customers at ease.
When dealing with an investment of this size, you deserve to have the job done properly the first time, we promise you will see the advantage of choosing Carpetland instantly!
For more information on our flooring options available, including carpet, hardwood flooring, laminate flooring, tile and stone, and more, visit our main site at carpetlandstores.com.
Contact us today to get started!