Welcome
Welcome!!! At Carpetland, we pride ourselves on offering the most comprehensive line of window treatment products. We carry a large variety of blinds, shades, shutters and drapes.
One of the easiest things you can do to update your look is changing out your window treatments. It can completely change the look of your furniture. It can even make the room look more spacious. Whether you are looking for something to help with the energy bill, to ensure privacy or something special for that delicate layered look, we can help.
Keep in mind, that if you desire a new look from top to bottom, we also offer flooring options to choose from like carpets, tiles, laminate flooring, and stone.
Whatever your need, Carpetland has a solution.

Carpetland is on Facebook
For the latest on window treatment-related news and information, visit us on Facebook.
Featured Product
ConQuest Aluminum Blinds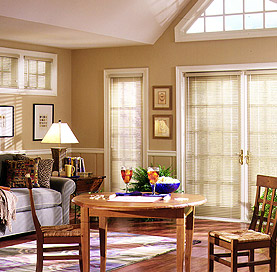 The Skandia ConQuest 1" aluminum blinds are the ultimate fashion statement providing all the benefits of a custom-made blind at an economy price. ConQuest Mini blinds feature durable 6 gauge aluminum slats in over 55 designer colors. Durable hardware includes a steel headrail and c-shaped bottomrail, 2-slat color coordinated valance and plastic milky clear components.